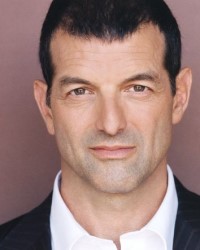 Davis Lynch was a high-rolling investor. He was played by Mark Harelik.
Davis Lynch was introduced to the series when Joe was seeking investors. Typical to Joe's bad luck, Lynch was convinced by Roy that Aeromass was a better deal. To make matters worse, Lynch had also been enamored with Helen Chappel, and asked her out. While Joe and Helen had recently broken up, there were obvious signs that they had not moved on from each other, and Davis' relationship with Helen was a sore point for Joe. Davis would make multiple appearances throughout the fifth season, with it often being that his demanding work causing him to cancel dates with Helen. At one point when Helen is fed up with him, Davis surprises her by asking her to marry him. A cliffhanger from Season 5 shows how Joe and Helen are not over each other, which continued into the season premire of the sixth season. Despite Helen's insistence they need to move on, Joe convinces Helen he should be her groom, and he proposes marriage to her in New York City, right in the elevator that was to take her to Lynch's penthouse. During the Season 6 opening with the appearance of Casey Chappel, Casey is glad that Helen lassoed herself a millionaire just like her husband Stuart Davenport, then makes fun of Joe Hackett, only to be shocked that Helen is now engaged to Joe.
A Season 7 episode explained what had caused Davis Lynch's abrupt writing out. Immediately picking up where the Season 6 season premiere had ended (in the private elevator to Davis' penthouse), Helen attempted to break up with Davis, only for be sidetracked by multiple members of the Lynch family and an elaborate engagement party. The party is put to an end when news comes of a military coup in Burma. Davis admits he put all his eggs into one basket by investing heavily in Burma's former government, and he risks dooming himself and Helen to a life of penury unless he gets to Rangoon immediately to salvage what he can. Shortly after arriving in Burma he is captured by the military junta and sentenced to house arrest, whereupon he spent the next year and a half. Eventually the junta decided that Davis Lynch was not a threat to their power and deported him from Burma. Helen thinks Davis is on her way to start the wedding, and scrambles to get Joe away (as she never shared the full story with Joe). When Davis arrives, he admits he cannot marry Helen. Davis was rescued by a State Department employee named Caroline who convinced the Burmese junta to free him. However, when Joe reappears, he wonders why he is visiting his wife, only for Davis to ask what is going on here, trapping Helen.